Home
Intelligent ILLICIT Drug SURVEILLANCE for Safer Communities

Combating the U.S. drug epidemic with innovative drug interdiction technology
The U.S. drug-related death toll has increased almost every year since 1999. More than 100,000 Americans died of a drug poisoning (overdose) in 2021, which is a new record high for drug deaths. Illicitly manufactured fentanyl (IMF) and other synthetic analogs have been a major driver of U.S. drug deaths in the past decade. Public safety and public health agencies have been two steps behind the drug epidemic because while drugs of the black market evolved the technology offered by the private sector to combat illicit drugs has remained stagnant.
IDEM Systems offers accurate field drug testing, drug data analytics tools, and actionable intelligence reports to public safety and public health customers. 
Our technology is a drug intelligence ecosystem developed into drug data analytics software tools and a field drug testing kit for law enforcement, security, public safety, and public health agencies to track new fentanyl analogs and other novel drug signatures. Our field drug analyzer and AI-based analytics tools will enable rapid detection of illicit drug signatures, real-time data analytics of drug distribution, and the ability to link and develop a drug nexus across multiple regions (or jurisdictions).
Faster access to drug data will lay the foundation for more effective drug interdiction, keeping illicit supplies of deadly drugs and counterfeits out of our communities. Additionally, providing access of this drug intelligence to state and local public health agencies will allow for illicit drug surveillance for public health officials to alert their community when there are deadly drugs being distributed in the region. Spreading awareness to local residents and potential users (i.e., people suffering from addiction, chronic pain patients who have been affected by existing drug policies that restrict their opioid prescriptions, young adults seeking recreational pills, etc.) about the increased risks associated with an illicit fentanyl-laced drug supply in the community for example, will help curb overdoses. The capability to do this with near real-time data would be a game changer in promoting harm reduction to address the drug epidemic.
IDEM Field Drug Analyzer and IDEM Geointelligence System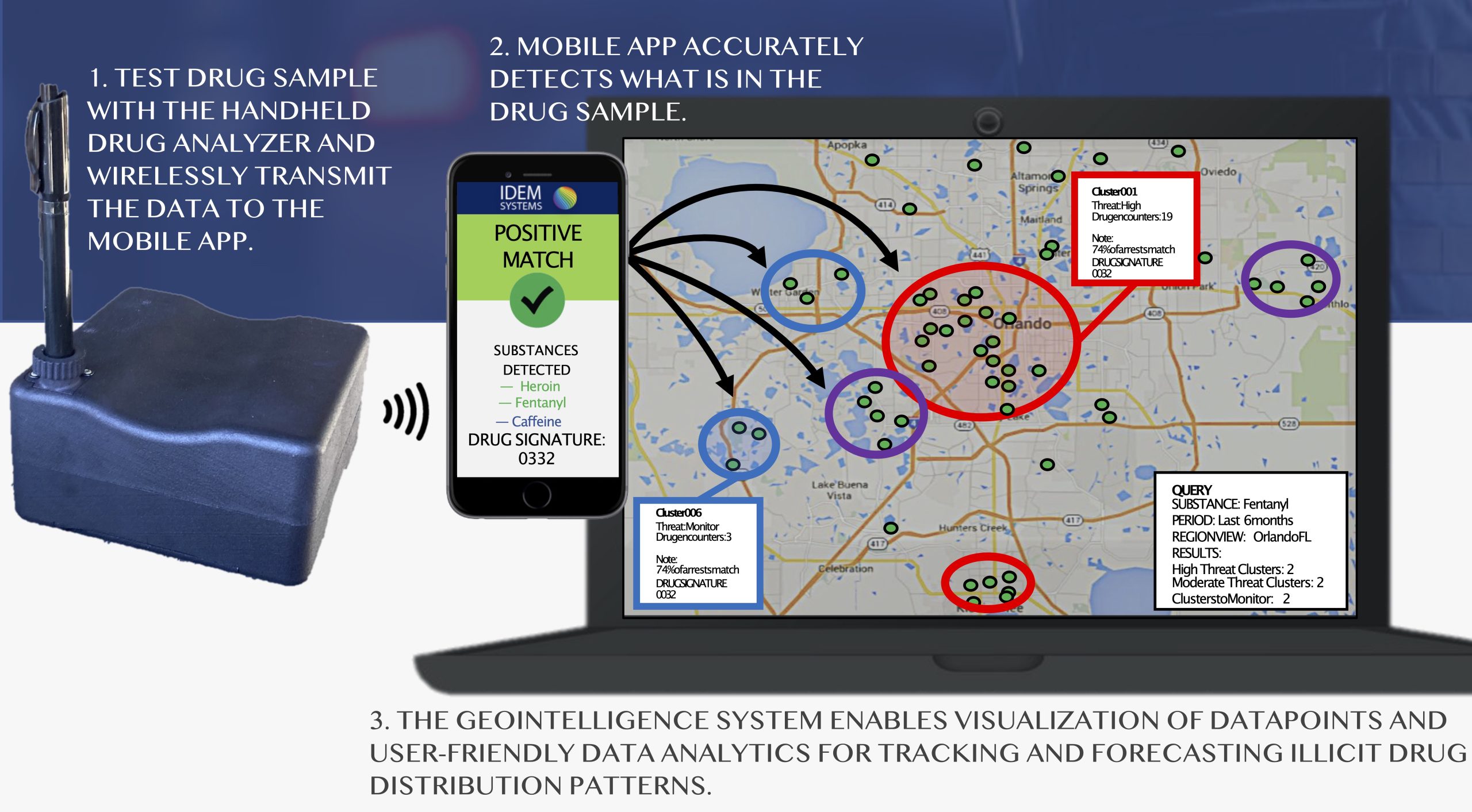 Accurate Results
Drug field test accuracy >95%
Rapid Results
Reliable results within 30 seconds
Simple to Use
Minimal upfront law enforcement officer training
Safe to Use
Avoid touching drugs
Adaptable
Up-to-date library that includes fentanyl analogs
Real-Time Drug Data Analytics
Link and develop drug nexus within a community or across multiple jurisdictions